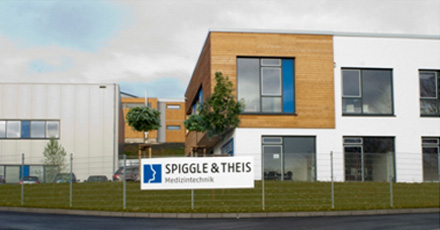 SPIGGLE & THEIS Medizintechnik GmbH was founded as a family-owned company in 1994 in Dieburg near Darmstadt. Since then, SPIGGLE & THEIS has been developing and distributing its products in over 75 countries worldwide. By keeping an eye on the market, the company is able to respond directly to specific requirements, meeting the needs of its customers. SPIGGLE & THEIS is a highly innovative company thanks to its close collaboration with doctors and healthcare professionals, who are involved in every step of product development, from the idea to the finished product. Thanks to these unique partnerships and a continued focus on the well-being of the patients, SPIGGLE & THEIS has become a global specialist in ear, nose and throat surgery.

Philosophy
As a company, manufacturer and service provider in the healthcare industry, we are committed to providing quality products, focusing on the well-being of the patient, and supporting doctors. We see ourselves as a partner to our customers and are always listening so we can better understand their needs.

Development
Most of the ideas for new products come from our users, because the ENT surgeon knows his needs best. Our role as an innovative company is to take up such ideas and develop marketable products from them. The subject of development is a wide range of product specialties for ENT surgery. The area of ​​innovative therapies has become increasingly important in recent years. The development of new products from the idea to the finished product takes place in close cooperation with the users.